It's time to level up your Thai!
Join this Intermediate Thai program to expand your Thai vocabulary, improve your sentence structure, avoid common mistakes, and boost your confidence to speak Thai like a native.
2 in 1 program
Learn at your own pace with recorded video lessons and join weekly group lessons with Kru Smuk via Zoom (offline + online)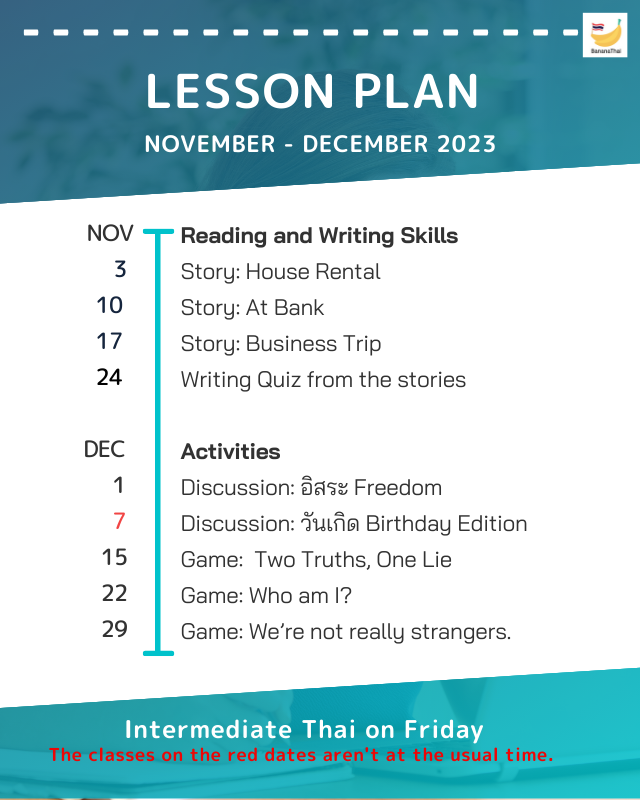 What contents are taught in this program?
November 2023 : Reading and Writing Skills
✓ Learn tips and techniques to read Thai
✓ Avoid common mistakes Thai learners make when read and write Thai 
✓Improve reading skills and speed with more advanced texts and long stories
December 2023 : Activities
✓ Strengthen your relationship with your classmate 
✓ Share your ideas and thought through topics discussion.
✓ Improve your speaking ability.
✓ Have fun and celebrate! It's the festive time 🥳
I would highly recommend this course to students who have completed the Ultimate Thai Reading and are at the intermediate level.
The student must be able to read basic Thai. We mainly use Thai scripts in the lesson.

What will you get from this program?
Learn Thai from unlimited recorded lessons updated weekly
Access to a self-paced program with more than 50 videos
Access to a Thai learning community on the Facebook group
Join Zoom lessons on Fridays at 4 pm. (Thai time)
Interact, engage and ask questions in the class
Every lesson comes with downloadable slides and notes
Join a live lesson with Kru Smuk once a week. Keep your Thai on fire.
Start from 500฿/month. Special! 6 months for 2300baht (380baht /month)
Students' feedback
This program has more than 70 enrolled students. See how they love this program.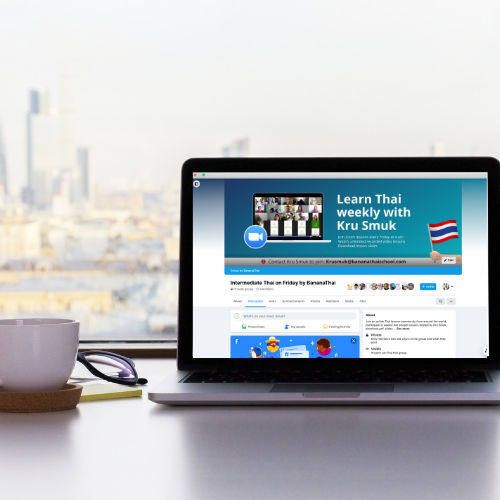 Join Facebook Group
Connect to other Thai learners from around the world. Keep yourself updated with the latest news and share ideas with your classmates.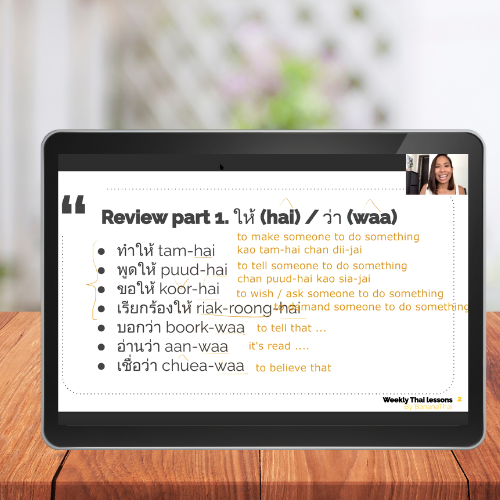 Learn from everywhere
Log in and access the course with more than 50 recorded video lessons by Kru Smuk. Choose any topics and learn at your own pace.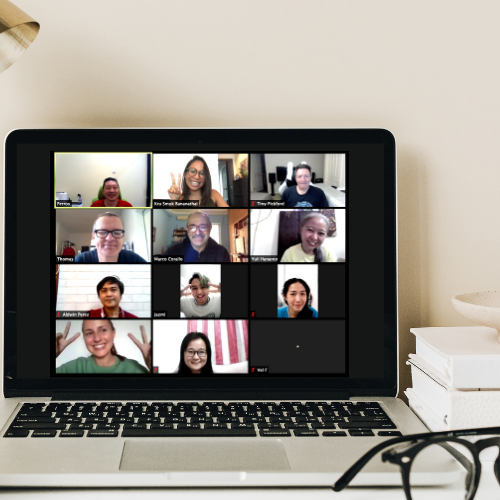 Learn with Kru Smuk (live)
Keep engaged in the Thai lessons with Kru Smuk every Friday via Zoom. Do homework and get your answer corrected with my personal advice.
Need my personal assistance?
Feel free to contact me on Facebook or email. I am always glad to help you. หวังว่าจะได้เจอคุณในบทเรียนต่อไปนะคะ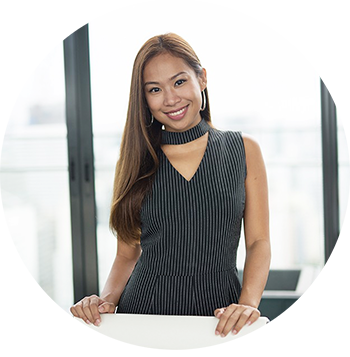 FAQ
Most frequently asked questions
Q: What is the learning schedule?
A: The schedule for a Zoom live Thai lesson with Kru Smuk is on every Friday at 4:00 pm Thai time. You will get the zoom link from a post in the Facebook Group one day before the lesson.
-
Q: What about if I cannot attend the live lessons?
A: If you're not available on the date/time of the live lesson, you can always watch the recorded lessons later. Kru Smuk will update the recorded lesson within 24 hours after the live lessons.
-
Q: What is the process to join the program?
A: There are a few steps to do:
Choose the pricing plan and enroll in the program
Log in to your account
Access the course and learn from the video lessons
Join Facebook Group (link is in the program instruction)
Join a live lesson with a Zoom link posted in the Facebook Group on Fridays.
-
Q: Does the program provide transliterate text (karaoke)?
A: This program provides texts in both Thai scripts and trans literature. No worries, if you cannot read Thai yet.