Need extra help?
✔️ Extra motivation to complete the course as planned
✔️ Human interaction with a Thai teacher
✔️ More practice and review
✔️ Ask any questions you have from the video lessons
✔️ Boost your understanding and confidence
✔️ Or get someone to kick your ass to learn?
Let me help enhance your learning Thai experience with my personal assistance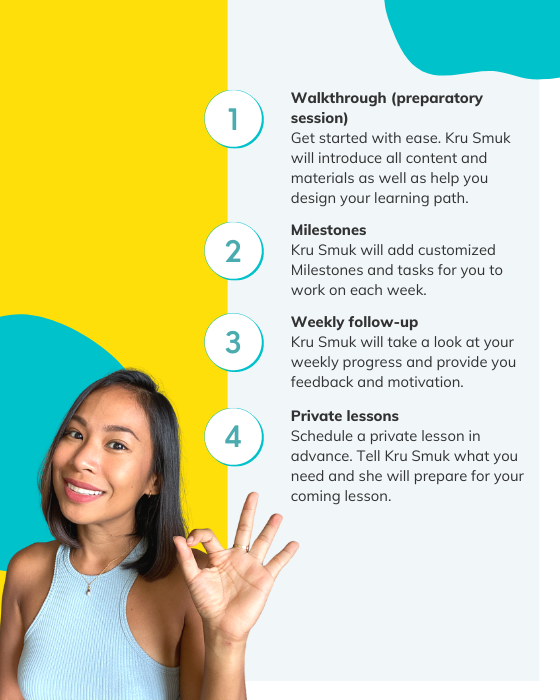 You need to enroll in one of the foundation programs
Your intake form has been submitted. Check your email for a copy of your responses. If you're accepted, you'll receive an email with a link to checkout.
If you're not yet enrolled in a foundation course.
Here are the two foundation programs you can join to learn at your own pace.
FAQ
Can I purchase the BananaCare without taking any online self-paced program?
No, you cannot. BananaCare is exclusively offered as an add-on service to the students who enrolled in a BananaThai foundation course (Intensive Thai or Ultimate Guide to Thai Reading).
It's an additional service to help enhance the student's learning experience for those who are in need of personal assistance and private lessons.
--
How do I schedule my private lessons?
Once you have purchased the BananaCare, you will be able to book private lessons on your demand with your credits (5 credits for 5 sessions). You will see Kru Smuk's calendar and can book the time and date you prefer.
Please note that your private lesson credit will be expired after 90 days from the purchase date or as soon as you terminate your monthly subscription to your foundation course.
--
If I want to have more than 5 private lessons?
Absolutely! You can buy a one-time lesson or a bundle of private lessons to add on after you have finished your credits of 5 hours.
The rate will start from 1000 baht per hour or 4500 baht for a bundle of 5 hours.